A chock full of snowy thrills proves Korea's winter is every bit sensational.
Snow-covered mountains, appearing in winter, turn Korea into an idyllic location. They imitate a heavenly image springing into life.
But merely taking a glimpse doesn't tell how sensational the season truly is. We've put together ten of the best snowy thrills you can't miss in Korea this coming winter.

Ski and snowboard down the slopes
Even before the 2018 Winter Olympics, Pyeongchang has long opened its doors to tourists eager to ski and snowboard down its white slopes. World-class ski resorts across the snowy province have modern sports facilities that cater to all skiers and snowboarders from novice to expert. Give in to your thirst for excitement and pick up one or two of the coolest sports on the planet.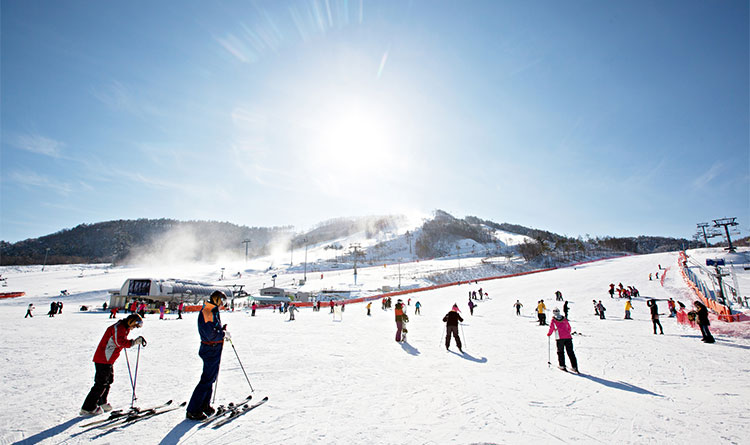 Shred the white slopes of Pyeongchang on skis or snowboards.
Catch slippery fish on icy waters
Ice fishing and bare-hand fishing are arguably the quintessential winter family activities in Korea. Equally exciting is ice fishing above a frozen stream or river, which measures at least a foot thick. Mark those calendars for fun fishing events at the Hwacheon Sancheoneo Ice Festival, Inje Icefish Festival, Pyeongchang Trout Festival, and Hongcheon River Ginseng Trout Festival.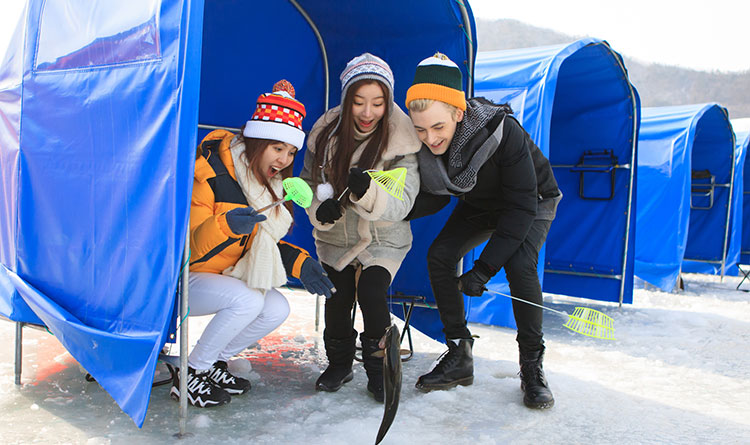 Ice fishing in winter is all about the thrill of the catch.
Bask in snowy sceneries
Korea's natural beauty spans across all of its four seasons, but winter's dramatic appeal simply outshines the rest. At the first day of snowfall, a soft, white veil covers the country's gorgeous mountains and impenetrable fortresses. As the season deepens, a thick blanket of snow beautifully conceals the landscape into a picturesque scene. Get your cameras ready and capture the essence of tranquillity at Woljeongsa Temple, Suwon Hwaseong Fortress, Taekbaeksan Mountain, and the charming Hanok villages.

Relax at the traditional sauna
An immersive day of wintry activities will warrant some relaxation later on. The best place to unwind is at a jjimjil-bang, traditional Korean sauna. Most establishments afford not only the usual warm sauna rooms, but enjoyable facilities such as outdoor swimming pools, karaoke entertainment, and beauty salons. Jjimjil in the Korean language means treatment of illnesses and removal of bodily toxins through perspiration.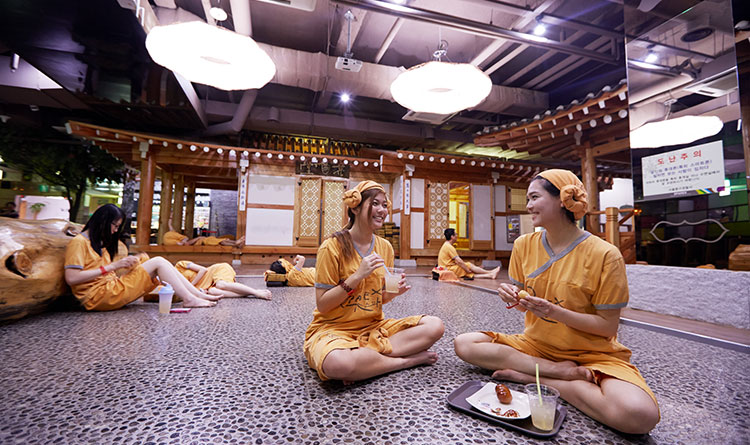 Stay warm in cool weather inside a jjimjil-bang, Korea's traditional sauna.
Munch and sip hot street food
Hot and savoury Korean bites and bowls keep the harshness of cold at bay. As soon as your stomach starts to rumble, hit the frosty streets and order some tteokbokki, spicy yet sweet rice cakes. Another one you should try is kkochi eomuk, fish cake skewers. Locals love mixing tteokbokki with fish cakes then adding-in onions, cabbage, and red pepper paste. A serving of delectable soup will also satisfy your appetite and wipe away the chills. Ask for a bowl of fish cake soup or bulgogi hot pot and relish in their distinct flavours.

Pose for photos beside winter sculptures
Winter season in Korea exhales an amazing world of massive snow and ice sculptures. Across the country, locals and tourists gather for the Taebaeksan Mountain Snow Festival, Daegwallyeong Snow Festival, and Hwacheon Sancheoneo Ice Festival, among other exciting winter celebrations. Gigantic displays of ice castles, snow towers, and other clever carvings are perfect backdrops for taking memorable photos with the family.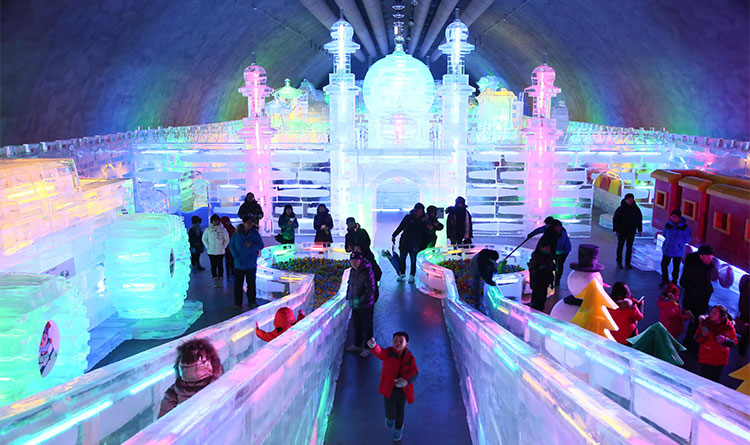 Lighting festivals in snow and ice illuminate Korea's winter nights.
Stay in a hanok with ondol flooring
In the coldest winter nights, you'll see a hanok, traditional Korean house, stand firm amid chilling winds and heavy snowfall. The hanok's architectural design shows Korean craftsmanship at its best. A typical hanok has an ondol, a unique heating system that uses warm layers of stones under the floor. The heated stones keep the temperature warm in cold weather. Free from harmful elements, hanoks have an eco-friendly design. They are typically made from wooden pillars, doors, windows, and floors. Meanwhile, paper from tree pulp covers the door and window frames.

Ride the snow flower train
The pinnacle of a winter journey to Korea is on board the Snow Flower Train. In this scenic ride, you will go over, under, and around a glorious landscape of snow-laden mountains. This enchanting trip embarks from Seoul and passes through Gyeonggi until it reaches Gangwon. At Chujeon Station, the train will make a delightful stop, so passengers can gaze at the spectacular Taebaek mountain range.

Fall in love at the romantic lights
Cold nights sparkle across Korea with a variety of winter lighting festivals from Gyeonggi-do to Jeju-do. These festivals, showcasing splendid LED arrangements and installation, evoke a warm, romantic mood that attract couples and families. Some of the notable lighting festivals are the Jeju Herb Dongsan Light Festival, The Garden of Morning Calm in Gapyeong, Gyeonggi-do, and Boseong Tea Plantation Light Festival.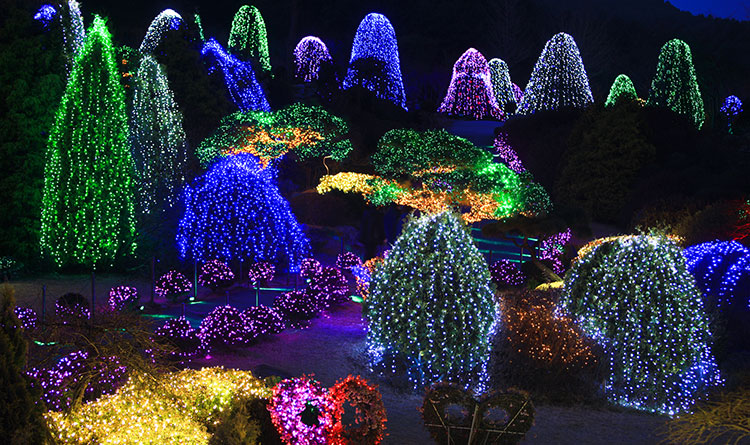 The romantic lights at the Garden of Morning Calm in Gapyeong, Gyeonggi-do.
Frolic indoors with the family
When winter in Korea hits too hard, you can still relish a holiday with the family. Watch wondrous marine animals make thrilling splashes at the Lotte World Aquarium, Hanwha Aqua Planet Jeju, and Aqua Planet Yeosu. These world-class aquatic feature massive aquariums and educational programs. Better yet, wrap your minds around interesting displays over at Trick Eye Museum, Alive Museum, Bonte Museum, and Brick Campus. And for a fun-filled cultural experience, DIY handicraft and cooking lessons make for a great bonding time for the family.

Related articles
Welcome to Korea
Paving the Roads of the Future in Jeju
Mount Hallasan: Korea's Winter Snowscape
Korea Back in Time
Jeolla Beyond the Table
Tracing Jeolla's Food Trails
A Walk on Jeju's Intimate Trails
Gangwon's Scenic Delights

This article was first published in Travel Guide Issue No. 51. For more information on how to book winter holidays to Korea, browse a copy of Travel Guide's e-copy on your mobile.

Photos courtesy of Korea Tourism Organization