Go beyond the familiar snowy slopes of Gangwon with the scenic delights of Chuncheon and Gangneung cities.
A stream that flows in springtime
Chuncheon, the capital city of Gangwon Province, has the nickname "City of Lake" as it lies on the Soyanggang river and surrounded by Lake Soyang and Lake Uiam. It's known as the shooting location of the Korean drama "Winter Sonata" and the hometown of Son Heung-min, the professional footballer for Tottenham Hotspur. Another name for Chuncheon is "a stream that falls when spring comes" because it's beauty emerges during the season.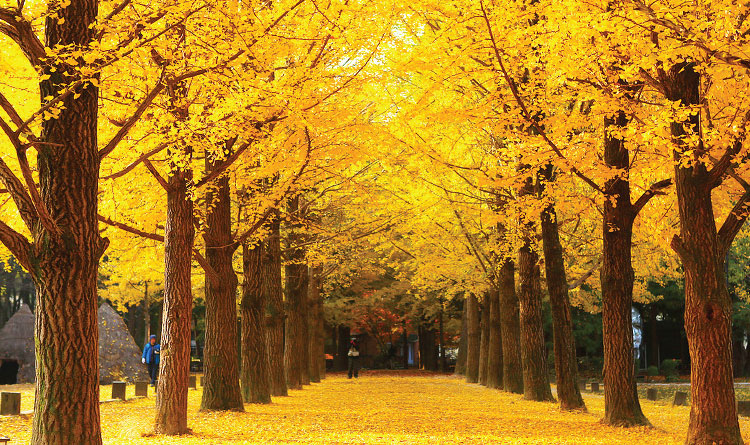 Golden autumn leaves in Namiseom Resort in Chuncheon city.
Gangchon Rail Park
When the Gyeonchun Line, a double-tracked railway line connecting Seoul and Chuncheon, opened in December 20, 2010, it replaced the Magunghwa train, which travelled on the same route for 70 years. Built on the site where the train passing through Gyeongchun Line used to stop, Gangchon Rail Park has become a popular tourist attraction where visitors can pedal along the old railroad tracks and take in a lovely view of Bukhangang River.

Soyanggang Skywalk
Soyanggang Skywalk is an observatory set over Uiamho Lake. Its walking path, made from transparent glass, is 156m long, and offers a thrill for tourists who will feel as if they're walking over the lake.


At 156m, Soyanggang Skywalk is the longest glass structure in Korea.
Organic Café
Located on Sinbuk area in Chuncheon, Organic Café offers homemade drinks made from organic, local produce. The cafe has become popular for its beautiful surroundings of canola flower fields and muhly grass during autumn.

Dakgalbi
Chuncheon's delicacy, Dakgalbi (spicy stir-fried chicken), is prepared by marinating chopped chicken in spicy, red pepper paste for about a day. When it's served in a large cast-iron pan, diners must mix the chicken with slices of cabbage, green onions, sweet potatoes, and rice cakes.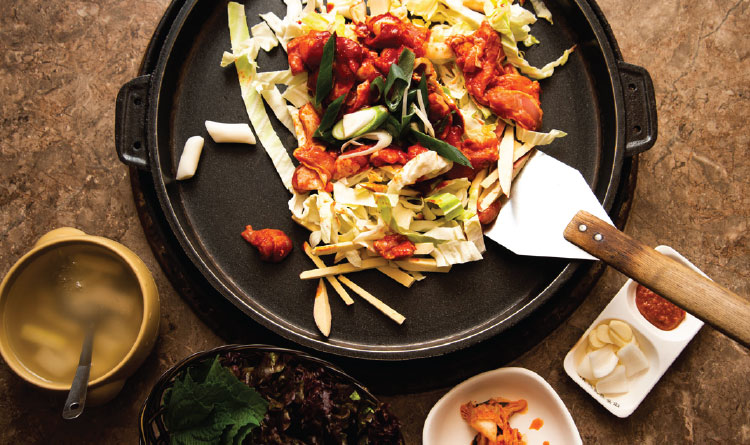 Dakgalbi, spicy stir-fried chicken, is a Chuncheon delicacy.
A seaside appeal laden with history
Gangneung, the economic centre of Yeongdong region in Gangwon province, is loved by many tourists particularly Jeongdongjin, for its sunrise-watching spot and Gyeongpo Beach. The city also has a unique 'coffee culture.' At Anmok Coffee Street, many cafe hoppers are fond of sipping freshly brewed coffee and admiring the ocean view.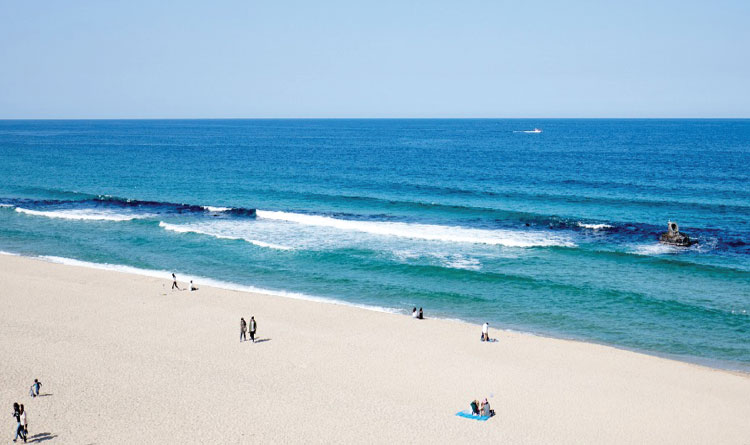 The cerulean waters and soft sand of Jumunjin Beach.
Ojukheon
Ojukheon was named as such because of the black bamboo trees surrounding the house. A famous family during the Joseon dynasty used to live here. Shin Saimdang (1504-1551), the prominent figure on the Korean bank note 50,000 won, and the best female artist during the Joseon dynasty, a role model of a wise good mother, resided in this house. Her son, Yi I (1536-1584), the figure on the Korean bank note 5,000 won, who was a great politician and scholar, was born here. Together, the mother and son are uniquely featured on the same bank note
Badabuchaegil
Badabuchaegil is a trekking course that gives you an opportunity to explore the East Coastal Terrace formed by diastrophism over 2 million years ago. The terrace was designated as Korean National Monument 437. The shape of the big rock resembles a fan and 'buchae' means fan in Korean language hence the name Budabuchaegil.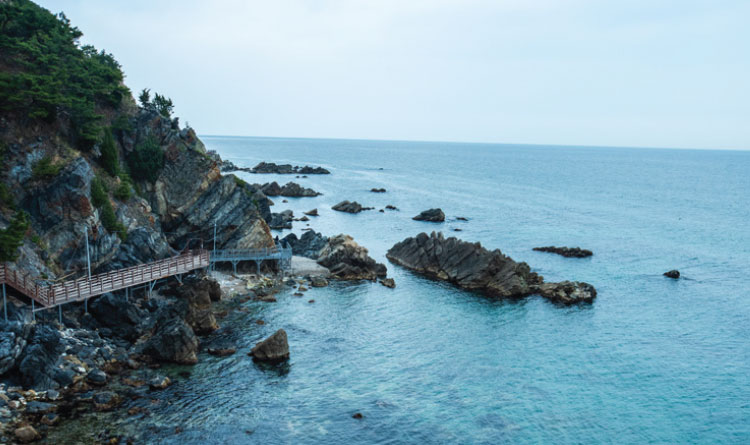 Badabudaegil, the seaside terrace designated as Korean National Monument 437.
Anmok Coffee Street
Anmok Coffee Street is where locals used to watch the ocean while holding cups of coffee. Today, the street has transformed into a coffee haven, attracting tourists inside coffee chains and cafes owned by baristas. Each cafe in Anmok Coffee Street offers its own specialty coffee, giving tourists a variety of choices. Terrace seats, facing the coastline of the East Sea of Korea, is popular among visitors.
BTS Bus Stop
Do you remember the BTS Bus Stop in the album "You Never Walk Alone?" This iconic photo was taken in Jumunjin beach where some of the scenes of "Spring Day" music video was filmed. Gangneung City set-up the BTS Bus Stop in Jumunjin Beach, which is a photo zone for to snap pictures and enjoy BTS music.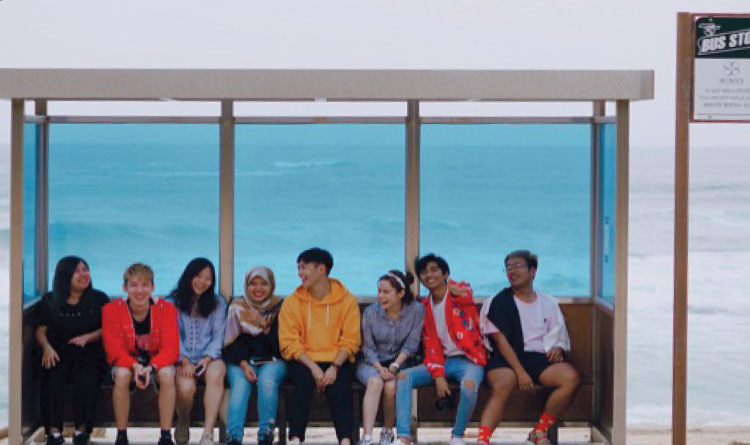 Sing to the tunes of BTS at their bus stop in Jumunjin beach.
Chodang Sundubu
Chodang Dubu Village is popular for its delicious silky tofu. Made with sea water from the East Sea and undergoing a congealing process, the tofu becomes soft and light. Chodang village is named after Heo Yeop's pen name. He's a scholar and minister from the 14th century who first made the tofu. Lately, Chodang village has gone viral again because of another great dish, the Sundubu gelato, which has the same silky texture and savory flavor.

Ride on Gangwon Tourist Taxi
In March 2019, Gangwon province officially launched its special tourist taxi service to encourage foreign tourists to travel easier and faster around the province. Together with Chuncheon city and Gangneung city, Gangwon province hired 200 taxi drivers dedicated to assist foreign tourists.

This article was first published on Travel Guide Issue No. 51 in collaboration with Korea Tourism Organization. Find travel deals to Gangwon province and the rest of Korea on the digital copy.

Related articles
Welcome to Korea
Paving the Roads of the Future in Jeju
Mount Hallasan: Korea's Winter Snowscape
Korea Back in Time
Jeolla Beyond the Table
Tracing Jeolla's Food Trails
A Walk on Jeju's Intimate Trails
Photo credits: Korea Tourism Organization and Gangwon Province Tourism