Nothing beats a home-cooked meal especially one that's made by Mama.
In their yesteryears, Nigel Chua and his siblings were tireless as tireless kids were, playing the whole day with tons of energy. When the call for mealtime came, their seemingly endless joys were zapped, dipping their heads low as they marched towards the dining table.
Thankfully, their brilliant and loving Mama cooked up her irresistible recipes to save the day, and these dishes have become their unforgettable favourites. Now at the helm of his parents' Founder Bak Kut Teh business, Nigel pays tribute to his late mother with the unveiling of the special menu aptly named Mama's Home-Cooked Dishes.
Jessie Tan dips her spoon into the heartful bowls and plates at Founder Bak Kut Teh and shares her take on some of Mama's satisfying specialities.

Too Moody to Eat
A mouthwatering opener bursting with flavours, Too Moody to Eat is pan-fried chicken well-marinated with garlic and herbs. Mama's version is crisp and fragrant, a total departure from the limp and soggy skin I usually see in other chicken chops. I now get why this is Mama's secret weapon that enticed her cheeky children to finish their meals.

Best with Rice
A simple and comforting dish with a twist, Best with Rice easily tops my list. Imagine a fusion of mildly spicy, crispy pork lard and soft, silky custard steamed eggs melting and crunching in your mouth at the same time. The marriage of the different textures and flavours is simply irresistible, and can send you halfway to food paradise.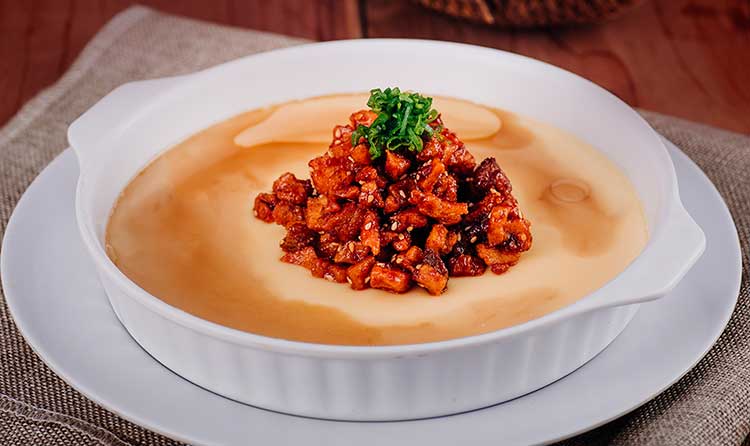 Silky custard steamed eggs topped with crispy pork lard of Best With Rice
Ah Lau Pan-Fried Fish
As a fellow Teochew comrade myself, Ah Lau Pan-Fried Fish definitely has my seal of approval. With a luscious dollop of minced garlic sitting on a fried-to-perfection piece of fish whilst floating on a bed of soya sauce, it reminded me of my beloved grandmother's cooking.

Founder Bak Kut Teh
If you prefer bak kut teh that's peppery, look nowhere else. The soup of Founder Bak Kut Teh has a rich, robust, savoury and meaty flavour with a kick of pepper (an enjoyable one) that will soothe any soul, especially on a rainy day. Paired with a couple of pork ribs (which were longer than my palm), the meat falls right off the bone with every tender bite. This dish has been enjoyed by many around the world for over 40 years, need I say more?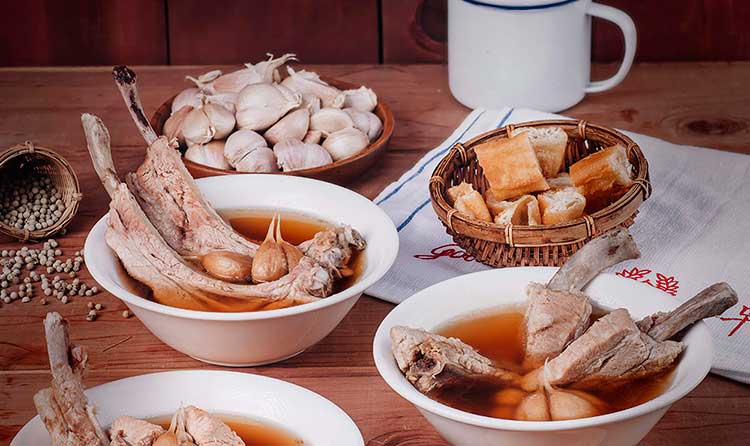 Founder Bak Kut Teh's signature savoury and peppery bowls
Piglet in the Pool
A great dining experience is incomplete without its final course, and Piglet in the Pool isn't the played out dessert you'll find in a bak kut teh shop. For one, it looks too cute to be missed. And apart from being insta-worthy, this pudding is full of coconut flavour, but not the least cloying. Indeed, it's a perfect way to end a satisfying meal.

Islandwide, Founder Bak Kut Teh deliveries to any address in Singapore from 10am to 9pm via WhatsApp. Call or message 8896 5136 and place your orders 3 hours in advance on weekends and 2 hours in advance on weekdays. A minimum spending of S$30 applies. Access the full delivery menu by adding Founder's WhatsApp Business Profile at 8896 5136 and viewing "Catalog."
For more information, visit Founder Bak Kut Teh's official website.

Image credits
All photos courtesy of Founder Bak Kut Teh