Set off on a passionate course with your partner to Siem Reap, a city of enchanting temples and romantic surroundings.

Often overshadowed by the intimate attractions of its Asian neighbours, Cambodia is a destination that's ripe for honeymooners. Siem Reap, one of its main cities, offers an alluring blend of classy restaurants and bars, spas, heritage sites, and national parks.
While other couples miss out on the opportunity to explore Siem Reap, it's high time you discover what romance in the city is all about.

Where a lovely time begins
Catching the sunrise tops as one of the most romantic moments two people can share. The breathtaking sunrise in Angkor Wat attests to that. It's one of the top-rated attractions for couples for panoramic, scarlet scenery of the complex.

A trip to Angkor's most romantic temple
Ta Prohm, considered by tourists as the most romantic temple in Siem Reap, has captivated the creators of "Tomb Raider" to film in the exact location. The location of Ta Prohm is more laid back compared to Angkor Thom, making it more intimate for couples. Find your way here first before venturing to other remote areas inside the Angkor Archaeological Park.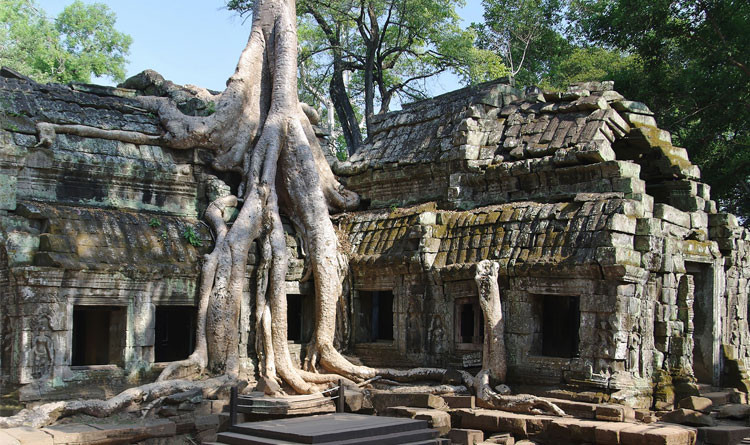 Giant fig tree strangles the ancient walls of Ta Prohm
Fall in love at the Kulen Waterfall
With its own unique row of sublime temples and natural attractions, Phnom Kulen National Park is another must-visit destination. Situated just two hours away from Siem Reap city proper, the park's mesmerizing waterfall is an exquisitely scenic sight that never fails to leave couples captivated.

Romance at Nightfall
As the only restaurant in Cambodia listed under the World's 50 Best Restaurants, Wat Damnak serves the city's finest Cambodian food. The hint of French flair added to the traditional dishes and the cosy ambience make it a perfect venue for a date night with your partner.
After indulging in a romantic meal, head over to Miss Wong Cocktail Bar for some after-hours fun. Unwind for a moment and take a sip from the extensive range of elegant cocktails. The cocktail bar, styled to evoke a romantic vibe, is a popular choice for couples looking for intimate moments.
Complete the night with a trip to the Angkor Night Market located near Miss Wong Cocktail Bar. Cambodia's first night market has hundreds of stalls offering a variety of Khmer artefacts, local goods, and souvenirs. Before returning to your hotel, get a relaxing massage at Baray Spa located at the market.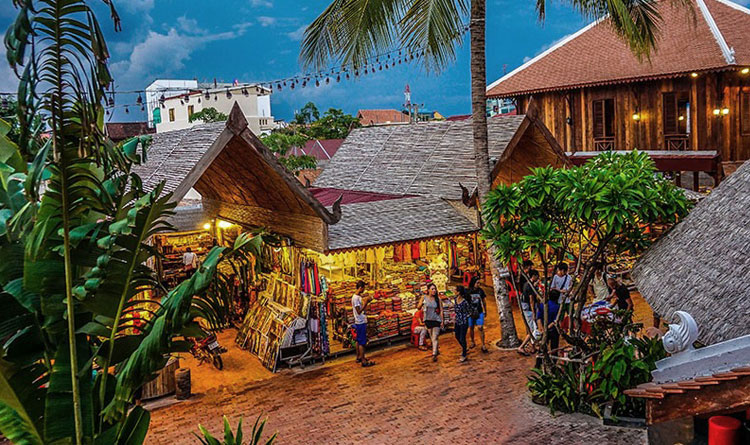 Colourful fabric and other local products at Angkor Night Market

Photo credits
Main image: Angkor Night Market
Ta Promh, Angkor Wat: Jean-Marc Astesana
Angkor Night Market: Angkor Night Market