A village of enduring customs tucked away from Korea's metropolis
The walkways along Oeam Folk Village draw an image of olden times. Persimmon, apricot, and chestnut trees line up in the front yards of straw houses. Stone walls, a couple of meters high, dictate the direction of the narrow roads. At a distance, a broad field and mountains complete the rural atmosphere.
A trip to this ancient village in Chungcheongnam-do paints a faded side of Korea's colourful history. The 'Yeongam Gunsu' House, one of the more familiar dwellings, had a garden of lush greens, a pond, and decorative stones. No one lives there anymore. Meanwhile, the other houses, although far from each other, thrive in the quaint setting. Every year, worn-out thatched roofs find fresh straws. Water from the mountains passes through a manmade waterway until they reach the gardens in these abodes. It's a unique feature of the town, which has less than 250 in population.
For a destination detached from the present, the Oeam Folk Village preserves history in the simplest form. The local way of living are time-tested techniques passed down through generations. For any enduring accomplishment, the village is listed as a UNESCO World Heritage Site and an Important Folklore Cultural Heritage of Korea.
Tourist activities in Oeam Folk Village
Visitors of the village can try their hand at making tofu, rice cake pudding, red chili paste, sweet rice puffs, and kimchi. Aside from traditional Korean foods, arts and handicrafts like hand mirror, pencil holder, bracelets and door tags made of 'hanji' or Korean paper are favourite activities as well.
Each season, a specific program is set for tourists. In Springtime, it's rice planting. Picking potatoes and watermelon happens in the Summer. Come Autumn, sweet potatoes are ready for harvest. And during Winter, ice-sledding, making kites, and making 'meju' or fermented soybean lump are in all store.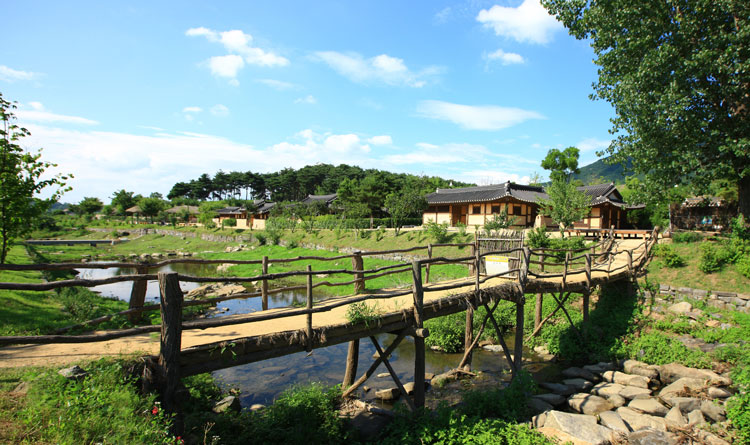 A manmade bridge in Oeam Folk Village
Oeam Folk Village
13-2, Oeamminsok-gil 9beon-gil, Asan-si, Chungcheongnam-do
How to get to Oeam Folk Village
1. Seoul Station to Onyang Hot Spring Station (05:15 – 19:50 every 30 minutes, 1 hour 30 minutes) or Janghang Line Railway: Onyang Hot Spring Station
2. Seoul Gangnam Terminal to Asan (06:30 – 21:00 every 30 minutes, 1 hour 30 minutes)
3. Daejeon Dongbu Terminal to Asan (07:05 – 19:55 every 30 minutes, 1 hour and 30 minutes)
4. Cheongju Terminal to Asan (06:50 – 21:10 every 30 minutes, 1 hour and 20 minutes)
5. Incheon Terminal to Asan (06:00 – 20:00 every 30 minutes, 2 hours 00 minutes)
source: oeam.co.kr
Photo credits
Main image: Chris Van den Broeck
In-article image: Korean Tourism Organization