A two-hour train ride from Tokyo, Nikko City is a treasure trove of wondrous winter scenery.

Winter in Japan is in full swing and the excitement it brings to tourists will continue all the way to March. The mystical city of Nikko, just a two-hour trip from Tokyo on the JR Tohoku Shinkansen, is a treasure trove of natural scenery and wonderful locales.
Here's a list of Nikko's must-see attractions that will make you warm and cosy this chilly season.

Lake Chuzenji
Japan's powdery snow compels visitors to fly to the country every winter; Nikko's magical icicles is like the icing on the cake. On the shores of Lake Chuzenji, natural "splash ice" formations occur as water from the lake freezes up on trees and stones along the banks. Mother Nature adds a touch of fair breeze to turn the formations into artful ice sculptures. It's an outdoor winter exhibit for all to see.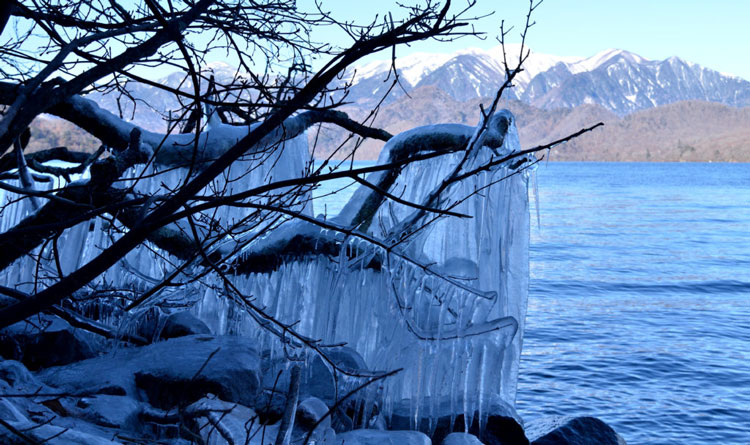 A "splash ice" formation along the banks of Lake Chuzenji
Getting to Lake Chuzenji: From JR/ Tobu Nikko station, ride the Tobu bus to Chuzenji Onsen or Yumoto Onsen. In about 45 minutes, get off at Chuzenji Onsen bus stop.

Ryuzu Falls
The Great Wave off Kanagawa, a timeless Japanese art, shows nature's raw beauty. In Nikko, the Ryuzu Falls exudes the same impact. 'Ryuzu' means Dragon's Head and the waterfalls got the name because its waters form an image that of a dragon. During winter, as snow covers the trees and land on the waterfalls, an incredible backdrop appears, mimicking a gorgeous ink painting.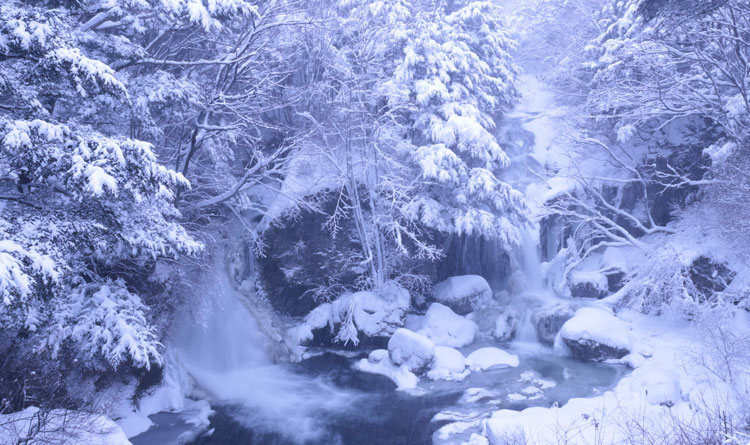 Spectacular pure white backdrop at Ryuzu Falls in winter
Getting to Ryuzu Falls: From JR/ Tobu Nikko Station, take a bus to Yumoto Onsen. In about 55 minutes, get off at 'Ryuzu no taki' bus stop.

Yukimi Onsen
An 'onsen' or hot spring invites utmost relaxation in Japan. Tourists can take a dip any time of the year, but it only becomes truly special in winter. A 'yukimi' or outdoor onsen is one of the popular activities in Nikko. Yunishikawa Onsen, Kawamata Onsen, and Okukinu Onsen are some places where you can unwind amid a wintry view.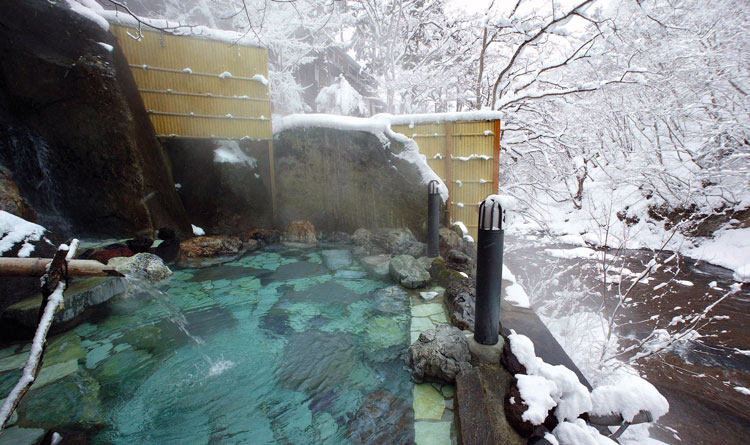 Take a relaxing dip in an onsen amid the view of snow-covered hills
Yunishikawa Onsen Kamakura Festival
A breathtaking display from January to March happens in Nikko with the Yunishikawa Onsen Kamakura Festival. Also known as 'Historical Culture Night View,' the festival features long rows of handmade snow lamps that light up in the night. The local residents welcome visitors with this amazing view. During the day, tourists can enjoy activities such as sledding.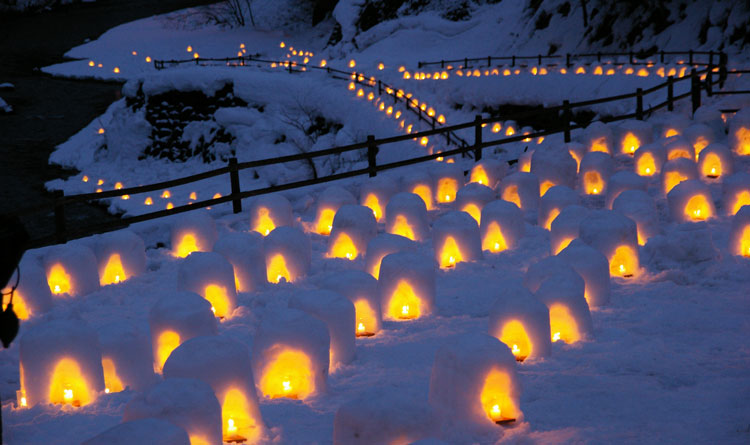 Experience seeing these breathtaking snow lamp in Nikko during winter
Getting to Yunishikawa Onsen: From Aizu Kinugawa Line Yunishikawa Onsen Station, hop on the bus to Yunishikawa Onsen until the last stop, get off immediately to the main venue.

Hanaichi in Imaichi
Feel the excitement along the streets of Nikko City during the Hanaichi in Imaichi. Get a bite of delicious foods, hunt for good luck charms, or just enjoy the atmosphere in the thick of the colorful and attractive stalls.
From delicious delicacies to good luck charms, get great bargains in the street market
Getting to the Hanaichi in Imaichi: Get off at JR Imaichi Station and you will see the venue immediately or walk for 5 minutes from Tobu Shimo-Imaichi Station.

Watarase Keikoku Railway Illumination
A fantastic sightseeing experience for the family, the Watarase Keikoku Railway Illumination passes through Kiryu City of Gunma prefecture and Nikko City. In spring and autumn, peach blossoms and autumnal leaves blend beautifully. Come winter time, the tracks light up with colorful Christmas lights across the valley.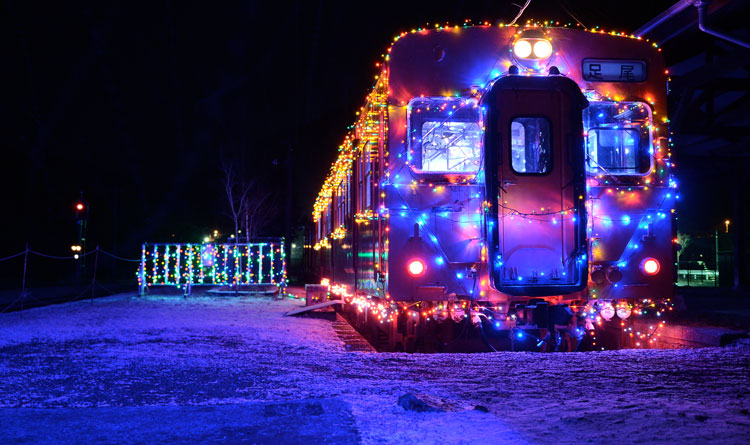 A visual treat of colorful lights on-board the charming train
Getting on the illuminated train: Head to the Watarase Keikoku Railway Station from 17:00 up to the last train time slot. A boarding ticket must be purchased before boarding on the train.
Photo credit:
All images courtesy of Nikko City Tourism Association