Mount Ijen and Mount Bromo unravel their trails of contagious adventure in Indonesia.
Climbing a mountain isn't everyone's cup of tea. It's arduous, rigid, a steep test even for someone in good shape.
So why do loads of tourists hike up Mount Ijen and Mount Bromo, two of Indonesia's most breathtaking peaks? Travel Guide Singapore's Don Gaoiran searches for the answers that may lie just beyond the summits of these phenomenal volcanoes.

Catching Ijen's elusive flame
At Mount Ijen's kawah, crater, hikers put their gas masks on. It's a protective measure from the pungent sulphur fumes engulfing the rock-strewn pit. As chilling winds chase away the smoke spewing out from the mining site, the sporadic "blue flame" unveils itself. The flame is the attraction Mount Ijen is famous for, albeit elusive to its onlookers and dependent on the weather.
The elusive blue flame appears at Mount Ijen.
The nocturnal nature of the sought-after blue flame compels many hikers to begin their ascent of Mount Ijen at midnight. For this reason, prepping up is all-important. A crew-neck sweater, windbreaker jacket, trekking pants plus a beanie are preferable items for a decent warming layer. Shivery climate from the base camp dips to 10 degrees with occasional whiffs of numbing breeze. While the walking trails up the crater's rim are steep, flat, and wide, hiking boots, trekking poles, and headlamps ensure safer steps.
Local sulphur miners have braved Kawah Ijen long before anyone else. These men aren't after the blue flame, but the chunks of hardened yellow minerals they must carry on their backs, which can weigh up to 70 kilograms. The growing number of tourists exploring the mining site has shifted the interest of some who are now tour guides, bailing out weary climbers on makeshift taxis. Despite the influx of visitors, others persist on the hazardous, potentially fatal job.
Local miners collecting kilos of toxic sulphur.
Mount Ijen's blue flame fades away at sunrise, giving way to a toxic yet vibrant turquoise lake amid a panorama of ashen rocks. This otherworldly scenery is a product of sulphur and other volcanic matter. At this moment, climbers take triumphant photos of themselves, claiming victory after an arduous journey. The final challenge that proceeds is a gruelling walk all the way back to base camp.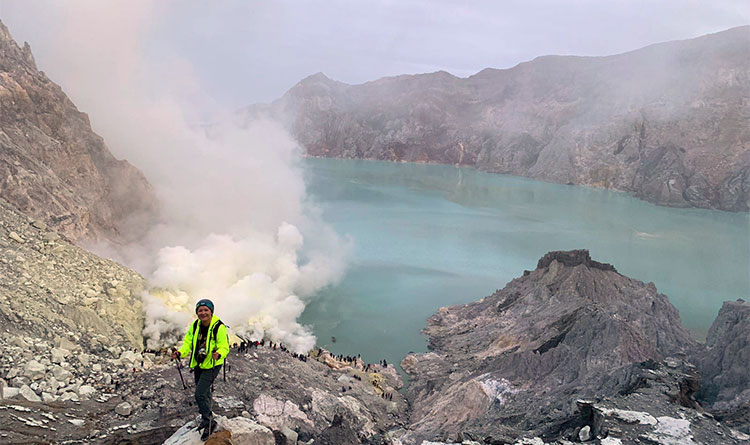 Sunrise at Kawah Ijen's sulphur lake.
Hiking up Kawah Ijen at midnight and descending from the peak after sunrise is a rite of passage for climbers. It's a surreal experience that unearths the volcano's raw beauty. Only in darkness, the blue flame appears; only with sunlight, nature reveals.

Rolling on a sea of sand
A massive laut pasir, sea of sand, stretches on the foot of Mount Bromo. What seems like a barren land at first glance slowly unravels into an exhilarating ground, far and wide, more than the eyes can see. High above this grayish plain, Bromo's volcanic mouth shows where the heights of adventure lie, but it's emanating its own warning signs.
Setting out on a Mount Bromo escapade begins in the small hours of the morning. The landing point isn't the Sea of Sand yet, but the viewing deck on Mount Penanjakan, a theatrical prelude where climbers patiently wait in the cold for a glorious sunrise.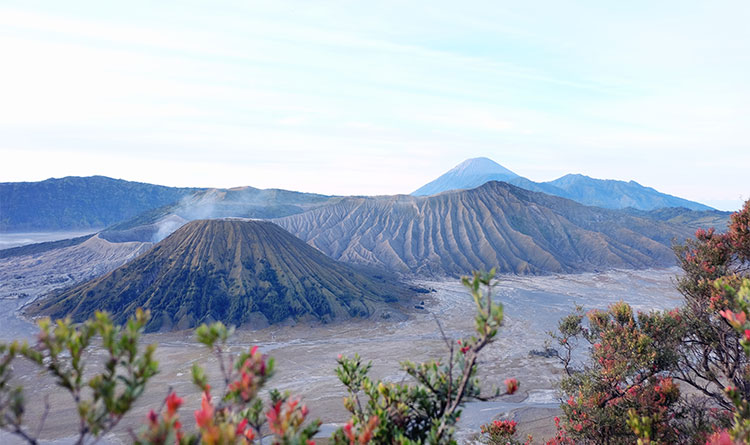 A sweeping view of Bromo Tengger Semeru National Park.
The frigid atmosphere on Mount Penanjakan drops right around 10 degrees Celsius, which feels quite similar to Mount Ijen. However, holding still at the viewing deck for the sunrise over Mount Bromo makes it feel a lot colder. A thick layer of a shirt, sweater, windbreaker, and trekking pants are enough to withstand the breeze. At that, a beanie, winter gloves, earmuffs are essentials. Peeling off or adding on layers of clothes will depend on personal comfort. The deck can quickly fill up with tourists as the sunrise gets closer and closer, so it's better to arrive and set up cameras and tripods ahead of the crowd.
While the sun warms up Mount Penanjakan, its brightness heralds a departure towards Mount Bromo. A scenic ride on four-wheel drives finally leads to the Sea of Sand and its sweeping terrain. The driving tour induces excitement its own brand of excitement, roving the ten-kilometre caldera, navigating in the unearthly view. A calmer substitute for exploring the Sea of Sand is renting a horse from the locals, although it's frowned upon by many tourists for the poor condition of the equines.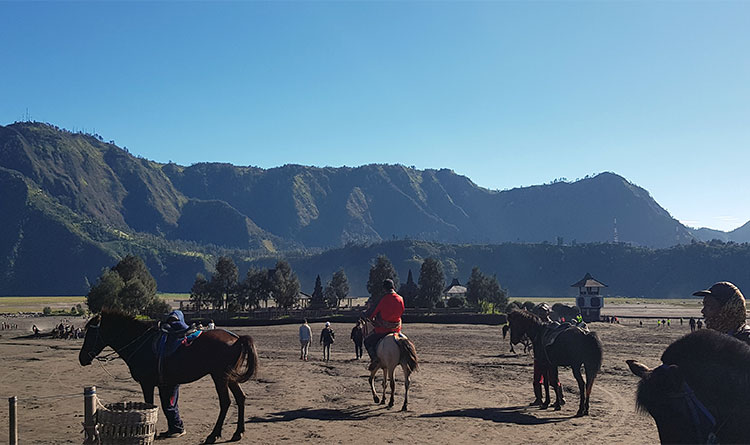 Horse riding on the Sea of Sand.
As one of the many active volcanoes in Indonesia, Mount Bromo requires its climbers to heed its warnings. A planned trip to reach its crater may come into a screeching halt, but in any event, safety is paramount especially for a treacherous climb as such.

Teaming up for an adventure
Mount Ijen and Mount Bromo present their own thrills and spills. Ahead of a journey up these incredible volcanoes, one's curiosity is the ignition switch while physical and mental preparation ensures bodily motors are ready to go. On top of that, embarking on this adventure with an eclectic team anticipates an experience that can last for a long time.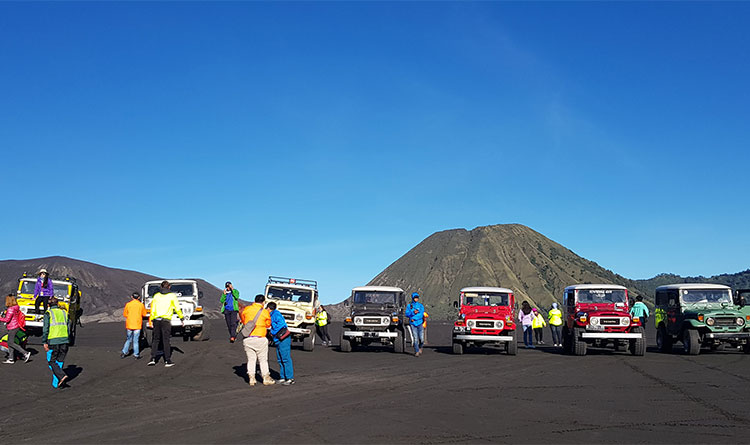 Four-wheel-drive vehicles at Mount Bromo's Sea of Sand.
Travel Guide Singapore would like to thank the Ministry of Tourism of the Republic of Indonesia and the local travel outfits for making this extraordinary adventure possible.
Image credits:
Main image
Robin Noguier on Unsplash
In-article photos
Blue flame at Mount Ijen: Eduard Marmet
Sulphur miners: Tarah
Mount Ijen crater: Andiko Baskoro
Mount Bromo Tengger Semeru National Park: Nguyen Tran