Jeju Olle Trail will lead your feet to the wondrous boundaries of Korea's shining gem.
Take a gentle stroll along Jeju Island's sublime coastline and you might end up tracing the Jeju Olle Trail, a series of intimate walk paths encircling the entire island. These trails weave together a surreal experience on foot, revealing Jeju Island's natural beauty often unseen on speedy road trips.
Whether you're a novice or seasoned hiker, Jeju Olle Trail is for everyone. It's time you breathe in nature's embrace, wander through lush sceneries, and let Jeju's arresting charm unfold in each step.

Essential connections
Jeju Olle Trail consists of 26 trails, each presenting its own delightful blend of attractions from panoramic views to floral and faunal plenitude. The total span of the trails stretches for 425km, many of which have been recalled and reconnected to complete the whole circuit.
As a patchwork of beautiful routes, the Jeju Olle Trail has different levels of difficulties for all types of hikers. Setting about is rather easy with designated sign-stones, ribbons, plates, arrows, and the Ganse (pony) signposts leading to the right direction and providing information. Several trails also have wheelchair-accessible areas.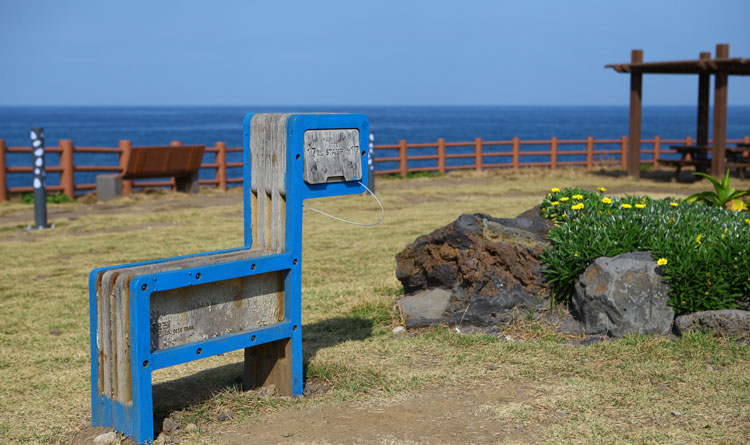 The ganse, pony, is one of the several directional landmarks along the trail.
Seaside spectacle
Among Jeju Olle Trail's stunning pathways, the most spectacular for many is Trail # 7. This coastal trail affords a view of Oedolgae, a rock spire set in the middle of the ocean. Another impressive attraction is the Dombenanggol, a cliffside formation of flat rocks that resemble a chopping board.
The light winds and warmer-than-average climate across Trail # 7 remind hikers of the balmy embrace of the spring season. Other must-see attractions along the trail include Seogeon-do (island), Gangjeong-cheon (stream), Ilgangjeong Trail, Wolpyeong Pogu, and Gutdang Promenade.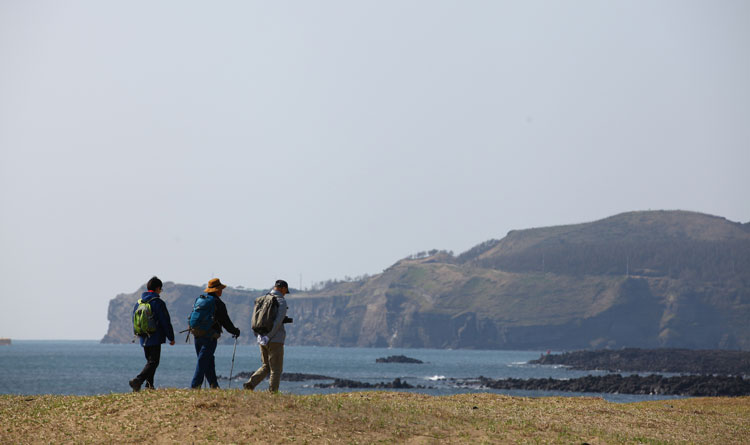 Breathtaking view of the mountain and ocean for trekkers.
Trails for all
Jeju Olle Trail is an ideal, year-round attraction for tourists in Jeju. However, before starting a journey, you must be familiar with the trail that you wish to hike.
Since Jeju Olle Trail is enshrined as a UNESCO World Heritage Site, you must keep your demeanor in check. Greet locals and fellow hikers with a warm smile. Bask in nature's creations, but leave the animals, fruits, and flowers alone. Keep trash items inside your bag and take only photographs as memories. Let the walking paths of Jeju Olle Trail bring tranquillity to your visit in Korea.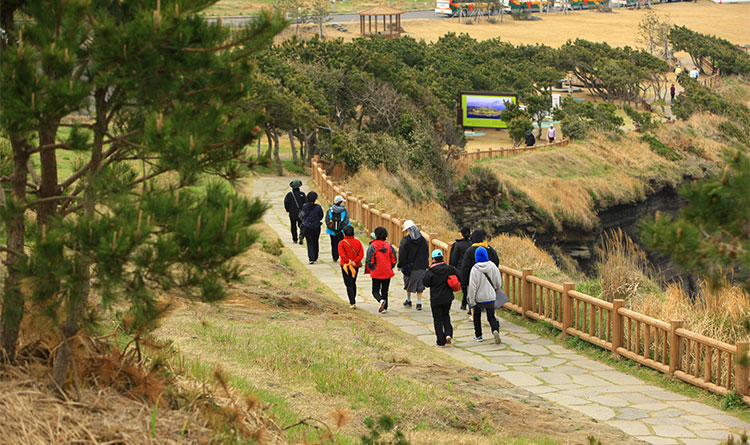 Jeju Olle Trail have safe paths for hikers of all levels.
For more information about the Jeju Olle Trail, visit its official website at jejuolle.org.
This article was first published on Travel Guide Issue No. 51 in collaboration with Korea Tourism Organization. Find travel deals to Jeju and the rest of Korea on the digital copy.
Related articles
Welcome to Korea
Paving the Roads of the Future in Jeju
Mount Hallasan: Korea's Winter Snowscape
Korea Back in Time
Jeolla Beyond the Table
Tracing Jeolla's Food Trails
Photo credits: Korea Tourism Organization