Take a bite out of Jeolla's traditional cooking—from baked delights and seafood sensations to nature's healthy offerings across its cities and counties.

The bursting flavors of kimchi will take unfamiliar tongues aback. It's sour, spicy, salty (and sometimes sweet) all at the same time. As Korea's unanimous staple food, kimchi apparently has hundreds of variations. Its ingredients largely depend on the produce of a particular region and the changing of seasons.
During a tasteful recollection on a flight to Korea, I found my first impression of kimchi a total surprise. At first glance, it's intensely red, so it must be spicy. And it was, but not totally. My taste buds quickly contested that kimchi is just as salty and sour.
I sat upright and poised as the plane descended over Incheon Airport. An eagerness to discover Jeolla Province, my main destination, took over. The journey was a chance to reacquaint my palate to the jolting taste of kimchi and discover more local culinary flavours in the heart of Korea's best food region.

A garden of fresh bounty
The breezy open field outside Onggojip Ssambap restaurant was pleasant scenery. Rows of cabbage, lettuce, and other leafy vegetables, growing from the fertile soil, lay adjacent to the entrance like green carpets. As I made my way to the dining hall, there's already an assortment of tasty appetizers on the table. They seemed like clues to a gustatory riddle.
What I had were ingredients to ssambap or wrapped rice. It's a unique experience of pairing white rice with meat, vegetables, and sauces, wrapping them in fresh greens (lettuce, kale, perilla leaf, cabbage, chicory, and chard), and consuming them in one mouthful bite.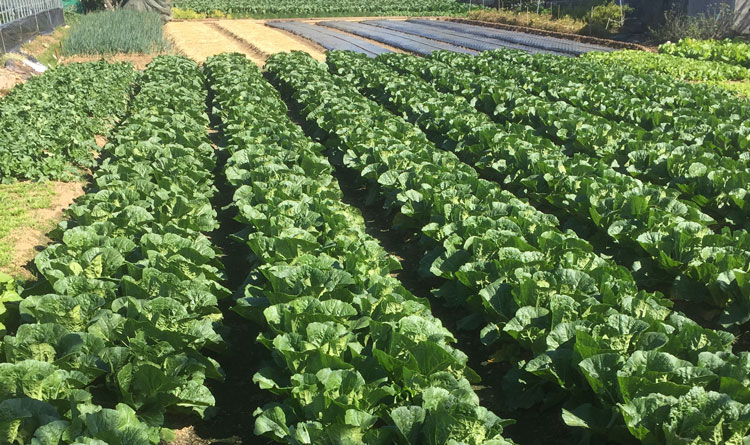 A row of fresh greens near Onggojip Ssambap
From blue crabs to baked treats
Ask the locals of Gunsan about their favorite seafood and you'll hear the blue crab often. The city's proximity to the bountiful Yellow Sea spells seafood galore. Hence, the tasty crab pinches a high seat in the hierarchy. Marinated in soy and garnished with greens and sesame seeds, the crabmeat blends well with its company. It's delectable enough to get the nod of seafood lovers everywhere.
After a gastronomic trip on soil and sea, I found myself the next morning in a long queue in front of Lee Sung Dang Bakery, the oldest bakery in Korea. Every day, people flock the bakery to order boxes of pat ppang (bread with red bean paste) or yachae ppang (bread with vegetable filling). Needless to say, it was one of those days. The waiting time may have lasted for hours, but the freshly baked, savoury pieces of bread made it all worth it.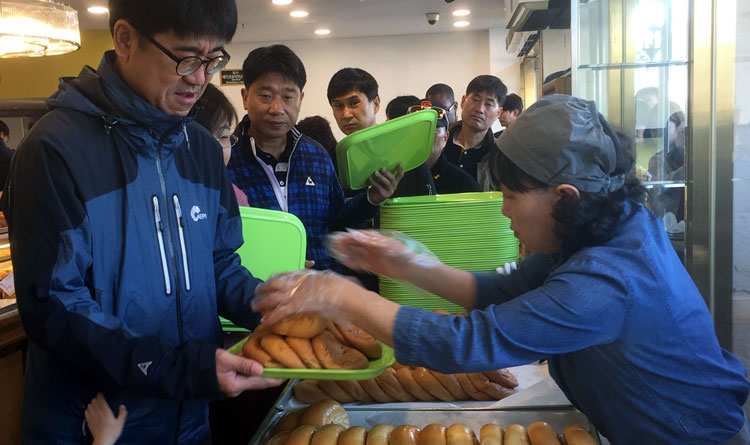 Locals lineup at Lee Sung Dang Bakery
Well-preserved traditions
Sunchang county, my second landing place, is well known for gochujang or Korean chili paste. During the Joseon Dynasty, it was said that the local crafters presented their gochujang to the royal family. Today, Sunchang's gochujang is highly regarded across Korea. I was fortunate to have a first-hand experience of the chili paste-making process with an expert in the traditional method. For anyone curious how gochujang tastes, follow our recipe at the end of this article.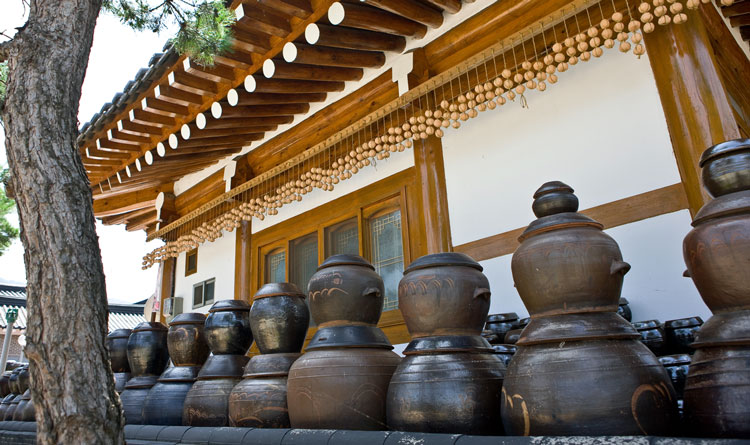 Jars of traditional gochujang in Sunchang Village
Let's turn up your ravenous hunger and partake in a hanjeongsik or a full-course, traditional Korean meal. The spread in a hanjeongsik is unique among the regions of Korea. Jeolla-do's style boasts of its best ingredients, and more than just devouring one plate after another, I had a brief education of a Korea table d'hote. No wonder Jeolla is often called the breadbasket of Korea.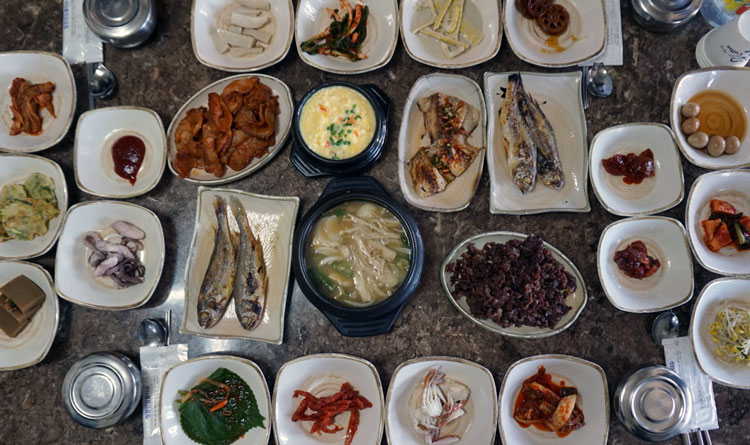 The wide variety of Hanjeongsik
A healthy favourite
Traveling eastward to Namwon city, the calming scenery of mountains and valleys with clean waters gently streaming piqued my imagination. Soon, a pale, giant statue took my attention and whispered that I've arrived. It's a chueo-tang or loach fish.
Namwon's dwellers have the chueo-tang close to their heart, literally and figuratively. Along Chueotang street, restaurants are prideful in their versions of the loach soup. Waiting for the next meal, I felt some excitement. I was told that the fish has a lot of health benefits. After one sip, I could tell that the fish was cooked succulently. When I asked if the fish bones were discarded, the kind server said that the bones where finely grounded and added into the soup. It's for the richness of taste.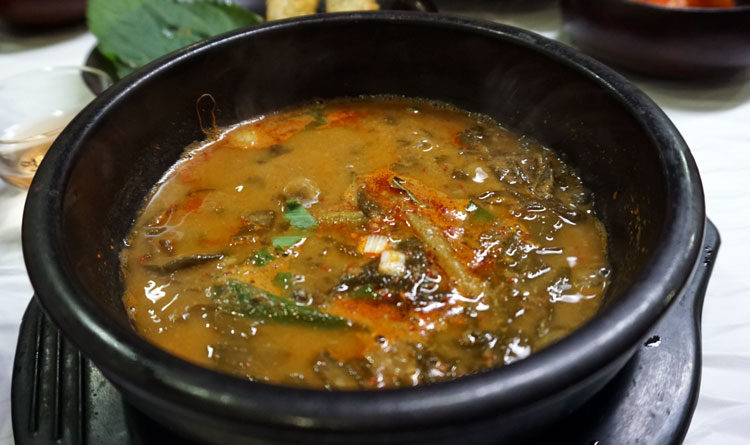 A healthy bowl of Chueotang
The unexpected tenderness
While chueo-tang is surely something to rave about for seafood enthusiasts, the Jirisan premium black pork paired with Korean rice wine is a match made for meat lovers. Cooking it in the charcoal grill add excitement to the dining experience. At first bite, I couldn't have imagined its tenderness and delectable taste.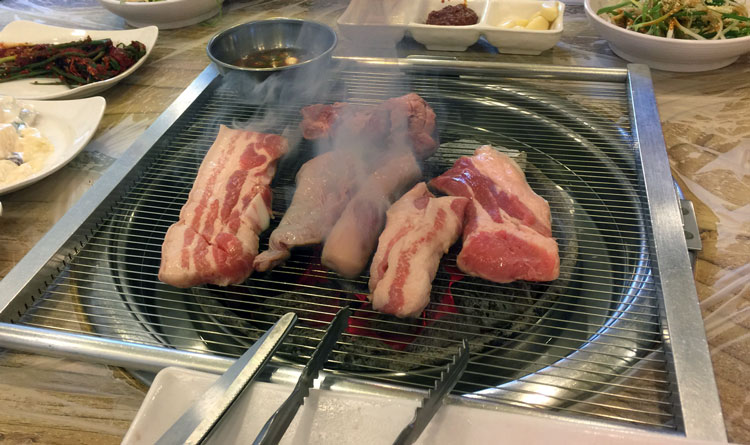 Appetizing black pork
Picking of fresh fruits
Persimmons are in-demand during autumn. In Naju city alone, farms see many tourists join in the fruit picking activities. Arriving a couple of weeks after the harvest, I felt bad missing out. Luckily, there was an alternative just as thrilling and mouth-watering: Korean pears. Walking under a canopy of pear trees felt like I won the next best thing.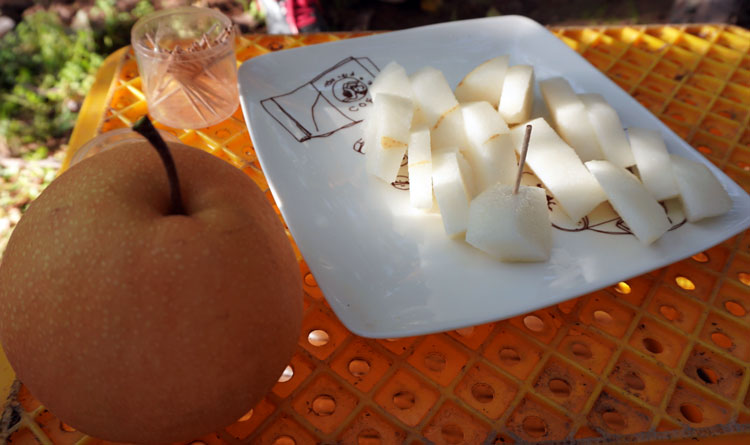 Slices of juicy hand-picked Korean pears

When the farm guide found some ripe pears in a cluster, we picked them from the tree and shared a few slices. It was crisp, juicy, and flavourful. Even the guide's adorable canine companion can't get enough of the delicious fruit.

A green delight
In the first part of this special feature, I have frolicked along the greens of Boseong Tea Plantation. No frolicking here would be totally enjoyable without a delicious green tea ice cream. I can only say that it has given Bungeoppang, my all-time favourite bread ice cream, a serious run for its money.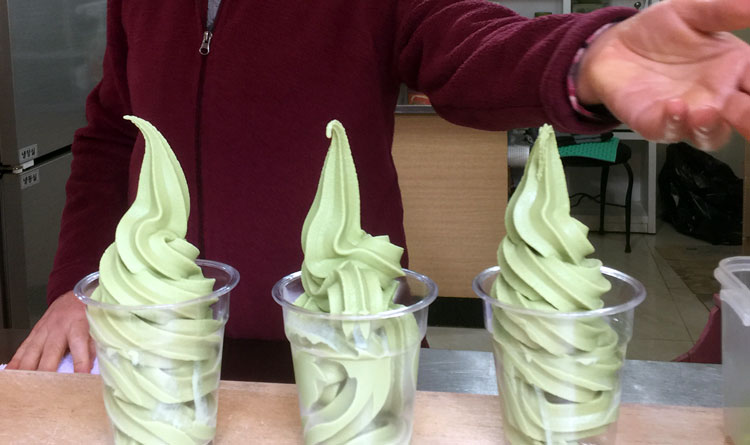 Three cheers for green tea ice cream
Bamboo benefits
A culinary specialty in Damyang, daetongbap or rice steamed in a bamboo bowl is a visually appetizing meal. A single whiff of its fragrant aroma and you're instantly hooked. Similar to the loach soup, this unique dish has health benefits from the bamboo. Daetongbap often comes with tteokgalbi or short rib meat patty and other side dishes. These two going together resemble is a combination of so many flavours.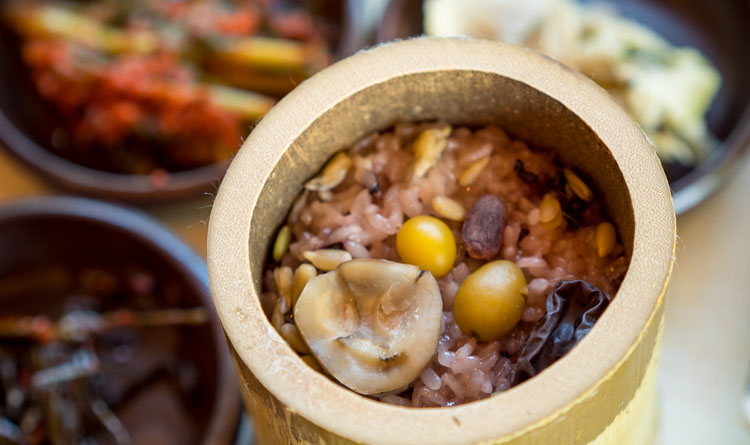 Daetongbap or rice steamed in bamboo

As the coach made its way back to Seoul, a sense of fulfilment crept in. It occurred to me that I wasn't just full from all the wondrous food. I was filled with appreciation and delight after partaking food from traditional tables. And while I know a lot of people enjoy dining in Korean restaurants across Singapore, I think it's fitting to say they have to trace its roots in Jeolla. The trip is worth every bite.
The Travel Guide team would like to thank Korea Tourism Organization, Jeollabukdo Province & Jeollanamdo Province for making this trip possible.

Related articles
Welcome to Korea
Paving the Roads of the Future in Jeju
Mount Hallasan: Korea's Winter Snowscape
Korea Back in Time
Jeolla Beyond the Table
Photo credits:
Korea Tourism Organization