Who needs Doc Brown's DeLorean when you have NINETEEN80's trippy expansion pack in town?
Neon lights, retro machines, disco beats, potent refreshment, NINETEEN80 at Tanjong Pagar will make you wish the glory days of the eighties are back for good.
Since there's no chance of that to ever happen, Phat Cat Collective, the cool folks responsible for the throwback arcade-bar, has supersized NINETEEN80's memory lane to a funkier level.

Down the rabbit hole
Slide down NINETEEN80's widened rabbit hole from its anteroom flanked of eighties kitsch through a Tron-inspired tunnel that tells you to "Press Start" before you enter.
Quirky aesthetics of the Memphis design movement, splashed on gleaming walls, ceilings, and floors, will tickle your imagination to the heyday of the Fresh Prince of Bel-Air. The rewind goes further backwards with cassette-tape and Tetris-brick displays and a 16-bit mural of Bruce Lee surrounding NINETEEN80's super-sized dance floor. At the photogenic Living Room, hang out with your pals on the cosy chairs while playing retro games on the Atari console hooked up on a vintage TV screen.

Round one, fight!
The retro arcade machines at NINETEEN80 are staples of the themed bar. Popular titles such as Street Fighter II, Pac-Man, and Puzzle Bobble have rekindled the awesome childhood of many enthusiasts.
A line-up of classic games will induce more excitement and this includes Super Mario, Donkey Kong, Frogger, Galaga, The Simpsons, and Outrun. Mash away at the buttons, welcome new opponents, or simply watch video game junkies play well into the night. And don't worry since no one here will yell "turn that thing off and go to bed."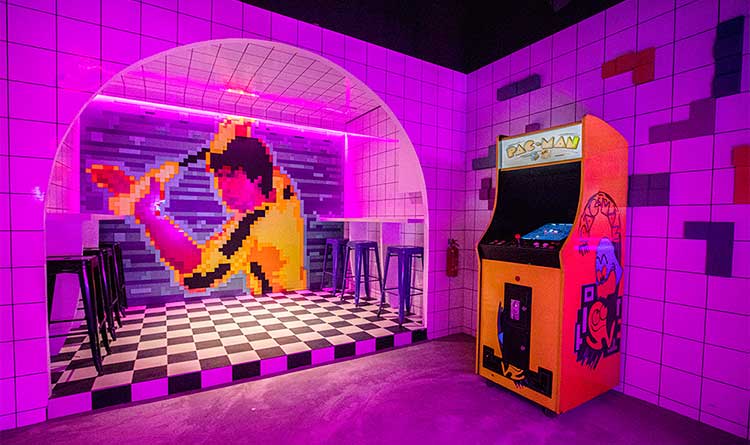 When's the last time you saw Bruce Lee and Pac-Man in the same room?
Bottoms up
True to its old-fashioned motif, NINETEEEN80 spills its theme over to a fresh array of concoctions. Slow dance to Prince's tracks while sipping Purple Rain, a fruity mix of vodka, grenadine, cranberry juice, and other ingredients. Meanwhile, Poison Ivy will wrap the flavours of gin, elderflower liqueur, mint, and basil around your thirsty throat. And Cococabana takes a stab at the local dessert chendol, blending dark and white rum with gula melaka, coconut milk, and coconut water.

Hit the music
From Pop, Disco, and Synthpop to Rock, Hip Hop, R&B and Soul, music genres at NINETEEN80 spring from the 80s and crash land into 2000s. Resident DJs Bobos, Bucko, Boy Ephrem, Ollie' des, and Rico sure know how to hit the music hard with a mix of pulsating tracks to keep everyone grooving and spinning like crazy.
Slipstream into the good ol' times of the eighties and find out more about NINETEEN80 through its website.

Image credits
All photos courtesy of NINETEEN80