In celebration of World Tourism Day, The Travel Corporation intensifies its commitment to sustainable tourism and conscious travel.
In April, The Travel Corporation (TTC) and its family of travel brands bid adieu to single-use plastic bottles on its coaches. Their sister companies have also put in their contribution, ridding plastic water bottles from their operations. Contiki, for one, came up with its own, long-lasting, water bottles.
For World Tourism Day this September, TTC's 10,000-strong team members across 42 sister companies worldwide are standing up to help protect people, planet, and wildlife.
"Make Travel Matter" is the company's pledge that serves as the next step in a long standing commitment to sustainable tourism and conscious travel. The timely pledge comes at the heels of the rising pressure on the travel industry and the underlying effects of travelling not only on the environment, but communities in many countries.
"Our 'Make Travel Matter' Pledge is another step on our journey and an impactful one as it further solidifies our commitment to helping protect the destinations we work with, its communities and local wildlife," said Brett Tollman, Chief Executive, The Travel Corporation and Founder, The TreadRight Foundation.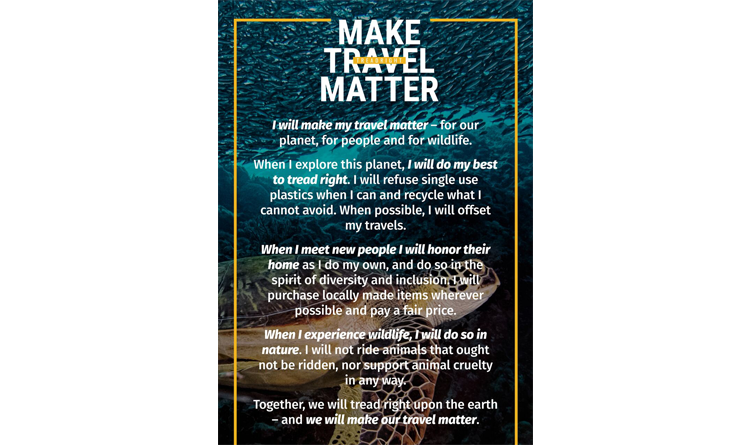 The Travel Corporation's 'Make Travel Matter' pledge.

MAKE TRAVEL MATTER PLEDGE
I will make my travel matter – for our planet, for people and for wildlife.
When I explore this planet, I will do my best to tread right.
I will refuse single use plastics when I can and recycle what I cannot avoid.
When possible, I will offset my travels.
When I meet new people, I will honor their home as I do my own and do so in the spirit of diversity and inclusion. I will purchase locally made items wherever possible and pay a fair price.
When I experience wildlife, I will do so in nature. I will not ride animals that ought not be ridden, nor support animal cruelty in any way.
Together, we will tread right upon the earth – and we will make our travel matter.
From celebrating World Tourism Day with a resounding pledge, TTC takes home the recognition as the 'Best Tour Operator' for the second time in the 30th Annual TTG Travel Awards 2019, a prestigious body that honours Asia-Pacific's exemplary organizations.
Uniworld Boutique River Cruise Collection, the company's all-inclusive luxury River Cruise brand, also took home an accolade as the 'Best River Cruise Line.'
Nicholas Lim, Managing Director of The Travel Corporation Asia said, "We are truly thankful to our partners in the industry for supporting us yet again for the second year to receive the 'Best Tour Operator' award. We are also extremely pleased that Uniworld is recognized as the 'Best River Cruise Line'. This shows us that our business partners have placed their trust and faith in our brands to deliver the best travel experiences on our guided holidays."
To join The Travel Corporation's pledge online, visit treadright.org/pledge.

Image courtesy of Trafalgar/The Travel Corporation