From video conferencing to taking a coffee break, working at home still calls for good office etiquette.
Remember that viral video of adorable toddlers crashing their dad's live interview on BBC? The father's mortified reaction could be a familiar sight these days as offices in many countries including Singapore temporarily move to work-from-home setups.
Whether you have tiny tots finding their way around the house or not, it's better to deal with work-related tasks like it's another day at the office. Here are useful tips in adapting to your home-office setup.

Set the clock
Work from home isn't an entirely new idea, but it's a setup unfamiliar to many workers. While some might sing praises because they won't need to get up early to catch the bus or train, setting the alarm clock remains just as vital. If your routine o'clock works fine, then you can make slight adjustments to catch a few zzz's, depending on your team's daily schedule.

Pick a spot
Are you comfortable working in the living room or prefer the seclusion of your bedroom? Picking the right spot in your house makes all the difference. For parents balancing time with children, set boundaries right away to prevent distractions from creeping in. How effective this is will depend on the age and needs of the children, but it is easier to focus your attention on defined spaces.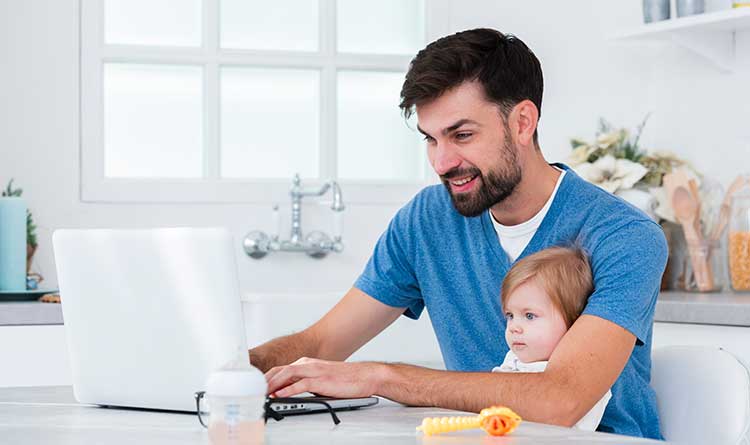 Set a space for work and time with your kids at home
Tidy up
Answering video calls from your boss while you're still in pyjamas isn't a good idea. Now don't get it wrong, putting on pressed clothes also comes off as overdoing it. Choose a comfy piece from your closet that's tidy and covers you up nicely. A few strokes of a hairbrush will also do some magic before you pick up the call.
One more part that often goes overlooked is your workspace. Turn on your camera and see what's going on in the background. Take out the soiled clothes from your bed, arrange the messy bookshelf, and clear all items that can distract your colleagues during your video call.

Prepare your things
Minor connectivity issues are normal, but if you're the one causing delays, then it's a problem. Ready your files and notes before the day begins. The first time you ask to excuse yourself is acceptable, but repeat offenders who can't seem to find missing sheets aren't welcome.
Sticky notes on a cork board make for quick memory tools
Choose breaks
If there's one wiggle room in your work-from-home setup, that part is choosing a break time. Give your peers a heads up if you need to prepare food in the kitchen or make some coffee, but don't overdo it. Who knows, they might have the same idea. If you're using a messaging platform, prompt them of your status. A short reminder for them to leave a message also helps.

Image credits
All photos created by Freepik