An 'edutainment' experience for families kicks off in Hong Kong with Ocean Park Marriott Hotel's Animal Discovery Fest.
A fun-filled experience for families from around the world awaits in Ocean Park Marriott Hotel in Hong Kong, the city's first-ever urban resort hotel. Ocean Park Hong Kong's transformation into a premier international resort destination promises a unique one-stop 'edutainment' experience.
For the upcoming Singapore public holidays (Good Friday, 19 April and Labour Day, 1 May), families and travelers from the Little Red Dot have the opportunity to experience the "Animal Discovery Fest," a fun-filled adventure encounter of the Park's amazing wildlife.
Headlining this year's festival is Meet the Walrus, the all-new, limited-time Get Closer to the Animal programme in which guests can observe the gigantic, moustachioed creature up-close, feel their skin, feed it and get a snapshot to capture the remarkable encounter.
13 other different interactive animal workshops and backstage explorer tours will also be available, including fun-packed moments with the adorable kinkajou and the extraordinary steppe eagle, as well as exclusive tours to back-of-house facilities at The Grand Aquarium and Shark Mystique.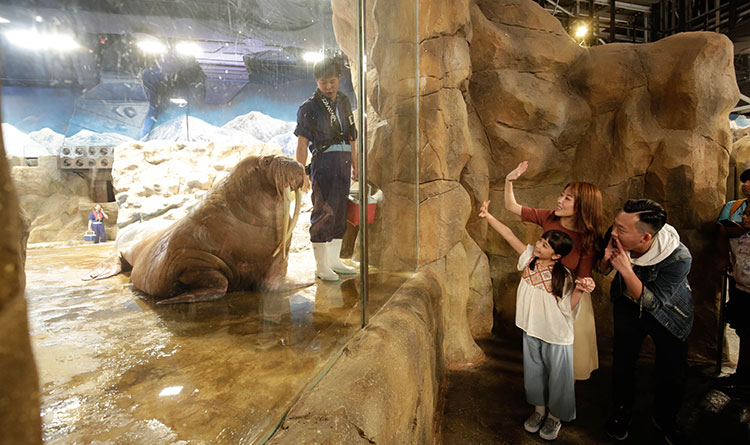 Ocean Park's Get Closer to the Animal programme is headlined by the "Meet the Walrus" encounter.

Ocean Park Hong Kong's veterinary team will also host a first-ever guided tour during the inaugural open house of the Park's veterinary centre to share knowledge about animals spanning the sky, land and sea, as well as their work in animal care and conservation.
Visit the Ocean Park Hong Kong for more information.
Photo credits
Ocean Park Hong Kong