At the doorstep of the Himalayan mountains is the natural wonder known as Leh-Ladakh, a city that is making a majestic return.


The mystic energy of Leh-Ladakh attracts scores of tourists each year to set off on a revelatory journey. It takes you back to the ethos of travelling, moving from one distant place to another, facing a variety of elements on the road.
As more extraordinary destinations in the world re-emerge, so does this once-vital, trading thoroughfare. It's now sitting on the cusp, ready to claim its former glory.
Expand your horizons and let your mind and body flow across a territory of rugged mountains, winding passes, and phenomenal sceneries, It is in Leh-Ladakh, the enthralling jewel of Jammu and Kashmir, that you will unearth your true character.
A radiant enclave up north
Ladakh is nestled in the northern region of India, in the state of Jammu and Kashmir, cradled by the snow capped mountains of the Himalayas. The only town of the region—Leh, used to be an old trading town on the Silk Road. Ancient caravans emerging from the Silk Road drew up the city's prosperous past, stopping over from arduous trips or finding a faster route towards the border. While this distant memory resides in the pages of time, the city is now turning its unbelievable landscape into a jump-off point of intrepid trekkers and admirers of natural scenery.
On the thrilling heights of Khardung La
Adventure seekers incessantly satisfy their thirst for the next thrilling destination. At Khardung La, you may have just found the proverbial grail. The mountain pass is the highest motorable road in the world at an average altitude of 10,000 feet or 3,048 meters. It's one of the sought after attractions for travellers on four wheels and motorbikes, which is also their gateway to Shyok Valleys an the famous Siachen Glacier.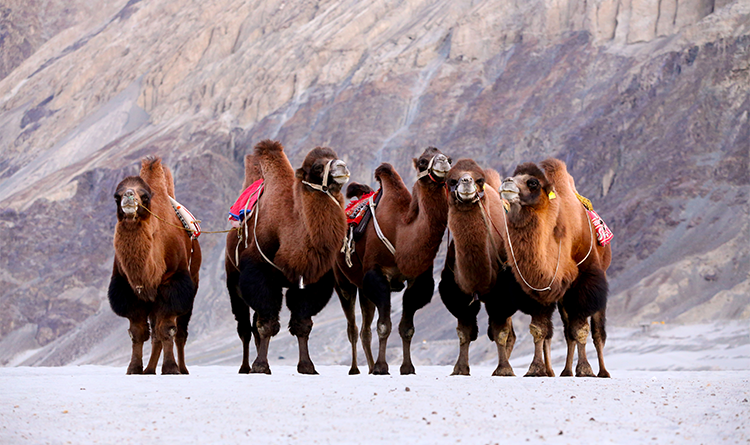 A caravan of Bactrian camels that cross the vast mountain ranges of Leh-Ladakh.
On the backs of Bactrian camels
Further beyond Leh, lies the Nubra Valley, where Bactrian Camels are found, prancing their hooves on the valley's expansive dunes. These shaggy, double-hump camels carry tourists from the foot of the mountain range to the perceivable top, bearing with them timeless tales, some of which are still untold.
Preparing for an incredible experience
July to September is the ideal time to see the otherworldly appeal of Leh-Ladakh. Meanwhile, the summer period from March to May is just as pleasant. The harsh cold of winter covers the land from November to February, wherein the temperature drops to a low -4 degrees Celsius. If you're flying in, Leh Airport is conveniently connected to Delhi, Jammu, and Srinagar.
Discover more about Leh-Ladakh, the enthralling jewel of Jammu and Kashmir, and more attractions in India at its official website, visit incredibleindia.org.
This article was first published on Travel Guide Issue No. 50 in collaboration with India Ministry of Tourism of India.

Photo credits: Ministry of Tourism of India