The quaint country in the Himalayas opens as a destination of impressive fortresses and Buddhist temples.

Bhutan sits in the eastern region of the Himalayas. A small, landlocked country roughly the size of Switzerland, it remains sovereign amid its larger neighbours—China, India, Nepal, and Bangladesh.
Get a glimpse of the age-old traditions in Bhutan through its attractions and uncover why it remains as one of Asia's sacred Buddhist destinations.

On the cliffs of Tiger's Nest
A holy place for Himalayan Buddhists, the Tiger's Nest monastery or Paro Taktsang, is perched on the cliffside of Paro Valley. It's the most recognised attraction in the country, offering a breathtaking view of the surroundings. But climbing up the 900-metre hill is no easy task. First, a pony ride needs to be taken to the cafeteria. Then, a steep walk along narrow stairs finally leads to the monastery.
When to visit: Spring time from March to May when the weather is cool and skies are clear.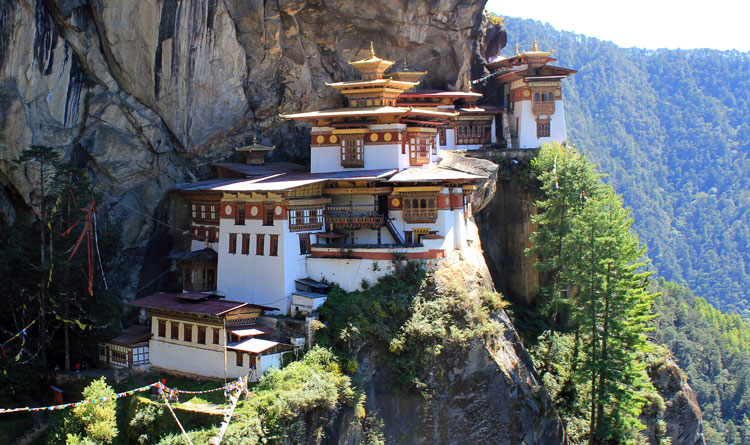 The Tiger's Nest perched on the side of the Paro Valley
At the feet of Buddha Dordenma
A bronze statue of Buddha Dordenma, gilded in gold, watches over the southern Thimphu valley. It's one of the largest Buddhist monuments in the world at around 170 feet in height. The completion date of the statue was fairly recent in 2015. A number of nations, mainly China and Singapore, sponsored the project. In prophecies, it is said that the Buddha Dordenma will continue to emanate an aura of peace and happiness to the entire world.
When to visit: The Buddha Dordenma offers the best view with the morning light or at night when it's illuminated with spotlight.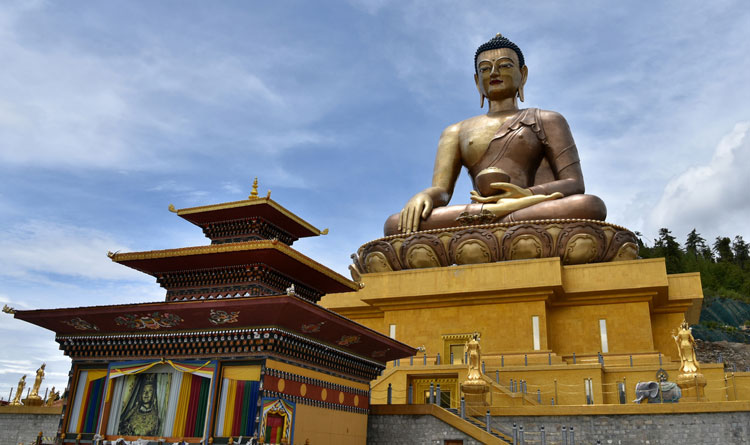 A majestic view of massive Buddha Dordenma
Inside the Punakha Dzong
'Dzong' means 'fortress' in Bhutan and the Punakha Dzong is considered as the most majestic in the country. Its impressive structure took only about a year to finish and many accounts claim that not a single nail was used. This famous attraction is also the place where King Wangchuck married Queen Pema in 2011. The fortress was strategically built between two rivers and it was designed to only have one entrance.
When to visit: Entry for tourists are at specific times between 11am to 1pm and 3pm to 5pm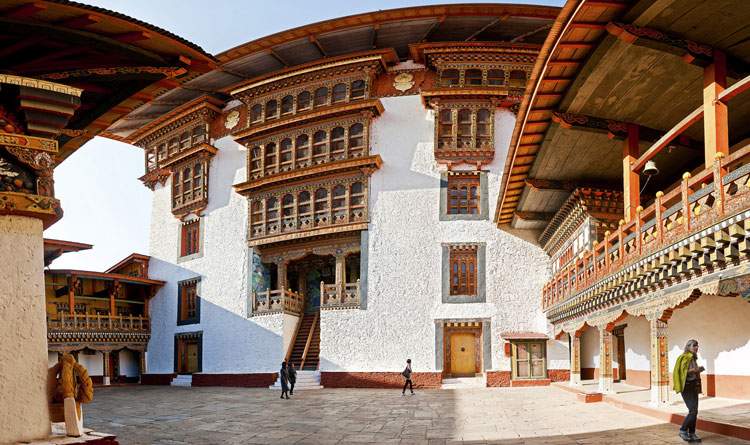 Get a sneak peek inside the fortress known as Punakha Dzong
Up the Zuri Dzong
The Zuri Dzong is the oldest in Bhutan and it requires a hike of about 30 minutes from the National Museum Watchtower. What lies at the top of the fortress is a stunning, bird's eye view of the Paro valley. Moreover, there's a cave in the area where locals believe Buddha has meditated in. Visitors can also see murals in the upper chapels that are dedicated to Zaa (Rahulla).
When to visit: A day hike is ideal to see the stunning vista of the Paro valley

Photo credits
Cover image: Doug Knuth
Tiger's Nest: Arian Zwegers
Buddha Dordenma: Richard Mortel
Punakha Dzong: Göran Höglund