Drukair Holidays opens the gates of the Kingdom of Bhutan for a truly tranquil holiday experience.
Drukair Holidays, the holiday division of Drukair, Royal Bhutan Airlines, opens the doors of Bhutan for travellers in Singapore and all over the world to sojourn to the kingdom, see timeless attractions, and immerse in pure bliss.

Radiant land in the Himalayas
In the majestic mountains of the Himalayas, the Kingdom of Bhutan sits in sovereignty. Roughly the same size as Switzerland, Bhutan dims next to its neighbours' China, India, and Tibet. In spite the massive contrast, the nation continues to shine through its fascinating landscape and friendliness of the locals.
A Bhutanese traditional dance performance with a colourful mask and attire.
Fortress of Buddhist peace
The Bhutanese people are mostly Buddhists, hence, tourists get several opportunities to interact with monks and enter temples. One prominent destination is the Statue of Buddha Dordenma at Thimpu Valley. At around 170-feet high, it's one of the largest Buddhist monuments in the world. Inside its meditation hall, all gilded in gold, are 125,000 smaller figures of Buddha made from bronze.
Paro Taktsang, also known as 'Tiger's Nest' is another sacred Buddhist site in eastern Paro Valley. The temple complex, perching in a scenic cliffside, was built in 1692. It has become Bhutan's cultural icon, a familiar image that depicts the country's natural embrace and peaceful outlook. Dobji Dzong, a fortress built in the 1500s, is nestled in the high altitude mountains west of the country. It's incredibly peaceful surrounding make it popular for taking photos.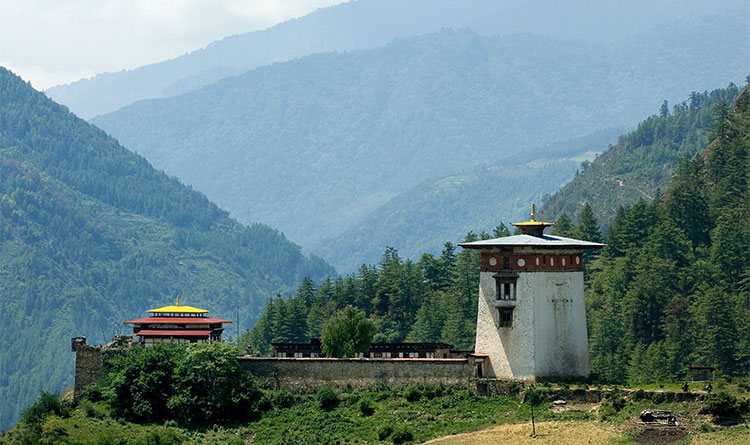 Dobji Dzong, one of the fortresses nestled in a peaceful, natural surrounding.
Gateway to the Kingdom of Bhutan
Drukair Holidays, a sister company of Drukair, Royal Bhutan Airlines, makes travelling to Bhutan from Singapore fast and convenient through its dedicated website, drukairholidays.com.sg.
Visitors can choose from a selection of adventure packages that uncovers Bhutan's eastern and western territories. A glance at the itineraries, which cover four to nine days, is a seamless preview of holiday excitement that's in store. For a more immersive experience, you may request for Drukair Holidays' Tailor-Made Trip package. On its website, Drukair Holidays also features quick chat assistance, ready to facilitate online inquiries in a few clicks.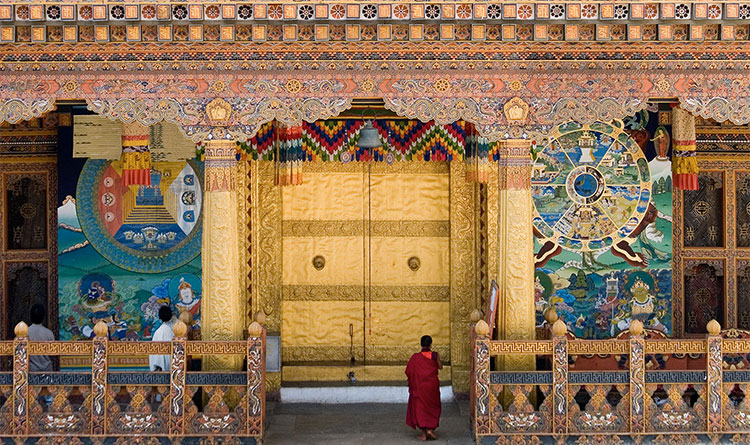 At the golden doors of Punakha Dzong Palace, one of the must-see places in Bhutan.
This article was first published on Travel Guide Issue No. 50 in collaboration with Drukair Holidays. For travel deals to Bhutan and other nearby destinations, check out Travel Guide's digital copy.
Photo credits: Drukair Holidays